Fly the furry skies. There's no cock in this cockpit. When porn's most famous superstar takes to the furry skies, Vagiterian Air, all pussy breaks loose!!! It's the wildest, wettest WTBA yet, with Jenna Jameson, Briana Banks, Savanna Samson, Sunrise Adams, Chloe Jones, Kira Kener, Dasha, Taya, and more!!! Forget about The Mile High Club… you're about to enter the mile-long club!!! It's Where The Boys Aren't 17… and if you're into pink, this one's comin' at you with a tailwind you won't believe!!!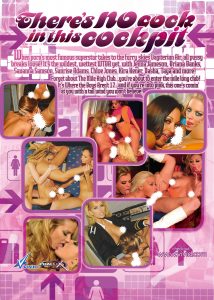 Jenna Jameson all-girl ahoy! — AAAA (AVN)
Director Chi Chi LaRue has this latest edition in the very well-loved series themed a la sixties airline, back when air travel was somewhat glamorous and apparently, quite dyke-y, too. All the then-Vivid Girls in the cast look wonderful with industry legend Lee Garland kicking ass on the hair and makeup front.
And the sex? Uniformly good with a total cast, minus Jenna Jameson, all-Vivid Girl pileup being the final scene and the absolute highlight.

Jameson does a scene here with Samson and another with former Vivid Girl Taya and current Vivid Girl Nina Mercedez.
Pre-nom the final orgy for Best All-Girl Sex Scene – Video and the whole for Best All-Girl Release.