Vivid is back with Where The Boys Aren't 16. Hell was never this hot!!! It's the wildest, sexiest, nastiest WTBA yet!!! And this time guess who's running things: Jenna!!! And guess who she's brought to the dark side: Nina Mercedez!!! Revel in this surreal, as porn's wickedest mind takes porn's greatest stars on an eerily erotic trip they won't soon forget. WTBA 16. Where the demonic meets the lesbionic. With Jenna ruling the underworld, joining the "Dark Angels" isn't so bad!!!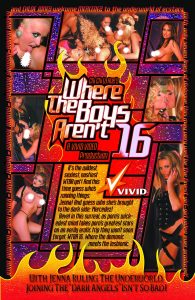 What the latest volume of this all-girl line lacks in uh, balls-to-the-wall nastiness, it makes up for somewhat by its awesome cast – the porn royalty that are the Vivid Girls (well, at least the Vivid Girls as of last year's shooting).
Done up as fetishy fallen angels replete with black-feathered wings, the girls dazzle with their supreme eye candiness. But the five scenes they appear in, while stylishly shot, alas, only give off moderate amounts of heat as the babes eat and finger and dil each other in various combinations, including the under-realized Jenna Jameson/Sunrise Adams face-off.


If there's a sexual standout here, it's got to be big-lunged Briana Banks, arguably the nastiest Vivid Girl, who slaps her pussy hard as Savanna Samson eats her, then voraciously attacks Samson's slit. Later, in the cast inclusive (except Jameson, who merely watches the proceedings from high atop a throne) closing orgy, Banks rides a big black double-headed dong with gusto, though the scene as a whole, like what preceded it, never cums to a full boil.

Distracting from the action are the gay boy toys kneeling at Jameson's feet, witnessing all that pussy; they look bored, out of place, and definitely not turned on.
Pre-nom WTBA16 anyway for Best All-Girl Feature-based largely on its sheer star power. — AAAA (AVN)