Savanna is on vacation with her best girlfriend and their two teenage sons. Seeing their young studs hitting on a couple of college girls gets them hornier than hell. So one night, Savanna pays a visit to her son's friend's bedroom and shows him the advantages of a milf over a teen. And then there were three… AVN's most awarded director, Paul Thomas presents a tale of familial perversion, rather than the familiar perversions you might be more used to. With porn's most perverted bad girl, Savanna, and a strong runner-up, beautiful new Vivid star Megan Mallone … in Blame It On Savanna … truly about the family that plays together and stays together.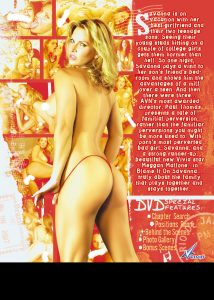 AVN Hall of Famer Thomas serves up a typically high-quality look at the unhappily married Samson and the people around her. — Critical Rating: AAAA (AVN)
By having the beautiful and bankable Samson break the fourth wall, this movie straddles the fence between gonzo and feature, capitalizing on the best aspects of both. Its lush outdoor scenarios and classy indoor sets manage to give it an old-school look with modern-day appeal; the hand-held camerawork gives it a voyeuristic immediacy today's consumers will appreciate, and the story will hold the more seasoned consumer too.


The sex is high caliber as you'd expect, with multiple-partner combinations, MILF, and a hot interracial coupling between Samson and ever-dependable Sean Michaels.