Vivid presents Where The Boys Aren't 8. Robert Cunningham was an extremely wealthy businessman who died. He's had several true lovers, none of whom ever got along. But his will stipulates that if they are to share his fortune, they have to learn to like each other. And boy do they. Vivid presents our top supermodels, straight from the pages of legendary Penthouse magazine in our most star-studded all-girl spectacular yet.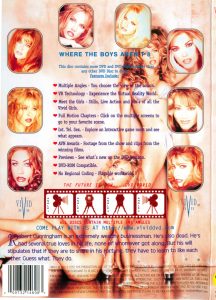 Really gorgeous, hot girl/girl stuff for boys and girls alike is the big selling point here, content-wise.  Just line up a stack of these up under a big neon sign that says, "COUPLES — HERE."

—

Critical Rating: AAAA (AVN)

 
This reviewer was somewhat confounded by the much-mentioned "Bad Girls" interactive walk-thru jail, in which the player can enter various cells and click on the photo housed therein, to be transported to a clip from, well, 
Bad Girl
, if memory serves.  However, the still in the cell is of one or another of the Vivid fillies, and it was, for instance, disconcerting to select the pic of Heather Hunter, then to be plopped down in the middle of the blondest, blue-eyedest white-girl threesome the Bad Girls feature has to offer.
Oh well.  This didn't result in much head-scratching, as the hands were busy elsewhere.  Confidently advise customers of same.