Tera … Briana … Lanny … Stefani … Savanna … Mercedez … Monique … Lexie … Tawny … Lyndsey and Lacey. Very simply, this is the harem to end all harems. They're so hot, not even Tera, the girl in the lamp can control them! It's the nastiest WBTA ever … and guess what … you're the Sultan!
Find out what happens when belly dancing meets lap dancing, in the girl/girl blockbuster of all time!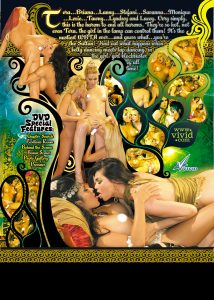 The Vivid Girls are harem girls for Where The Boys Aren't 19: Arabian Nights; and their sheik simply doesn't pay them enough attention. So their only choice is to dive into each other's holes. — Critical Review AAA 1/2 – AVN
This disc features plenty of superstar names that will draw in fans of big name all-girl features. Tera Patrick plays the Lady in the Lamp and grants Nina Mercedez any wish she wants — which is readily fulfilled by some girl/girl action with Tera.

On the blonder side of things, Savanna Samson, Stefani Morgan and Lexie Marie give each other a sponge bath followed by a tongue bath. And in the grand finale, all of the girls return for an orgy that brings down the tent.