The French Riviera is where the world's most beautiful women go to tan and relax. And never has it looked so beautiful as when the Vivid Girls landed on its sunny shores: Tera! Briana! Monique! Lexie! Tawny! Nina Mercedez! The Love Twins! Savanna! And hot little Stefani turns the town inside out and upside down as they make love in the water, on the beach, and everywhere in between in the latest installment of the biggest all-girl series in porn. Where the Boys Aren't 18 … it's where pussy hits the Pyrrenes.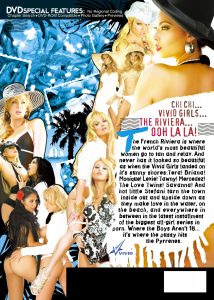 A series high. — AAAA (AVN)
This is, hands down, the best WTBA in years. It's the first time Tera Patrick has appeared in one, and her opening scene with Tawny Roberts is a fuckin' rocker.


That's followed by another stroke torpedo, a threeway placing Savanna Samson betwixt the Love Twins. But good god, wait'll you get to the series trademark ending orgy. Nearly an hour-long, and set by a swanky pool, it is an epic of lezdom to beat all. The only thing missing, oddly, is g/g-only Vivid lass Sunny Leone. But trust us, we can overlook that.

Pre-nom for Best All-Girl Scene (orgy), Best All-Girl Release.