Vivid is back with Where The Boys Aren't 10. The superstars of munch return for one wild, tenth anniversary lesbian spectacular! It's adult's most popular all-girl series for a reason It's all-hot, all-drenched, all-vibed, and all-out nasty as they wanna be! WTBA … It's where you wanna be!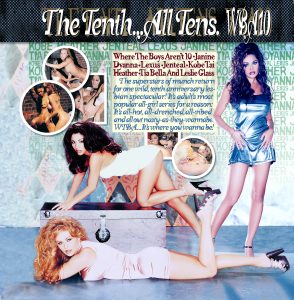 When a pair of rival girl gangs go toe to toe in their battle for turf, their respective leaders find themselves becoming more and more attracted to one another in this searing all-girl romp.
Janine and Heather Hunter star as the dueling gang leaders who fall in love, and both turn in sizzling scenes of girl-groping goodness. The folks at Vivid have outdone themselves in terms of casting for this one, gathering together some of the most gorgeous women in porn. The gals all seem to be having a great time, too, as they drive one another right around and bend.

Heather and Kobe Tai start things off with a torrid blast, while Leslie Glass and beautiful Tia Bella get in some lascivious licks of their own.


Fans of tight-bodied blondes won't be able to tear their eyes off of the Dyanna Lauren / Jenteal / Janine / Locklear four-way pile-up, with each of the gals showing some real energy and passion throughout. Jenteal and Hunter turn in a nice tryst in a rainy alley and then we get an eye-popping group grope that closes things out.

Great stuff for fans of lesbian heat, this one features nothing but gorgeous women and well-shot sex. "Stunning!" – Adam Film World.