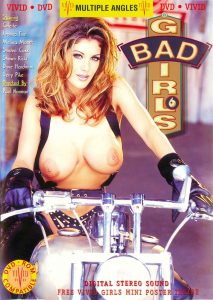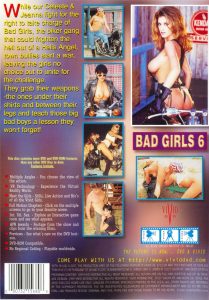 While our Celeste & Jeanna fight for the right to take charge of Bad Girls, the biker gang that could frighten the hell out of a Hells Angel, town bullies start a war, leaving the girls no choice but to unite for the challenge.
They grab their weapons -the ones under their shirts and between their legs and teach those big bad boys a lesson they won't forget! Directed by Paul Norman.
Jeanna Fine leads a biker gang of ass-kicking bi-babes (Celeste, Melissa Monet, and Sindee Coxx). Celeste challenges Jeanna because she won't share her "bitch" Yvonne with the gang.  Yvonne agrees to be shared, which results in a scalding sapphic gangbang by the campfire sure to be nominated for Best Girl/Girl in January. — Critical Rating: AAAA (AVN)
Jeanna challenges Dave Hardman to a barnyard screw, resulting in a dynamite deep-throat-and-doggie scene, while Shawn Ricks joins Sindee and hot-mouthed Melissa for a threeway.
These bikers are straight out of Russ Meyer's Faster, Pussycat! Kill! Kill! Jeanna deserves Best Actress consideration, as does Celeste for Best Supporting Actress and Pike for Best Supporting Actor.  The sex is revved up and rarin' to go!
Adam Film World: 3.5/Hot