Kim (Savanna Samson) teeters on the brink of life and death after suffering a near-fatal accident. As surgeons struggle to bring her back to the world of the living, Kim's mind hovers in a limbo designed to entertain her deepest, darkest fantasies, known as the Cerebral Net. With a little help from her guide Gabriel, Kim navigates the C. N., enacting all the pleasures of life never realized. Including a sexual ravaging at the hands of four desperate men. 59 Seconds less than a minute but more than you could ever imagine.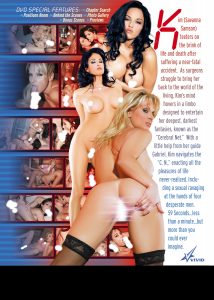 Savanna Samson might be dying – and even at the end of this feature, we're still not sure whether she's dead – but in-between, she's surfing the "cerebral net," a limbo-like ethereal space where she can live out her "deepest, darkest fantasies," according to the box, and occasionally watch others live out theirs. — Critical Rating: AAAA (AVN)
Savanna's "revenge of the cheerleader" fantasy works well, as she scores with babe-a-licious yellers Hillary Scott and Sammie Rhodes, but the real prize is the finale, as "teacher" Savanna gives her final sexual exam to Evan Stone, Marco Banderas, Christian and Jay Huntington. Look for plenty of mish, doggie, cowgirl, double-vag, and two anal positions.