On her way to the altar, Chasey's having second thoughts: It could have been Steve. Or Nick. Or Jill. Or most of row two. But it could have only been Vivid. Presenting a new Vivid Girl, Chasey Lain, in a story about tying the knot before you've united your heartstrings. When what can happen when the best man may be the better man. Iron your tux. Break out your studs… Chasey did. You are cordially invited to "White Wedding", an affair to remember.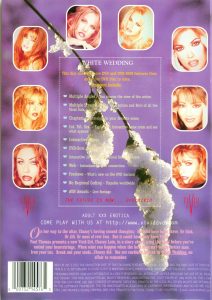 Chasey Lain is her usual gorgeous self in this well-lensed feature, but unfortunately, that just isn't enough to make this a hot sex film. Casey plays a "three-peat" bride whose mates keep cheating on her.
As Chasey goes through spouses, one thing becomes crystal clear: Jill Kelly steals this show. She doesn't have many lines, but she tears up the screen and ignores sensual fires whenever she's around.

The first is her tabletop honey-moon tryst with Chasey, and in what turns out to be the hottest thing going in this film, Jill cheats on Chasey with Steve Drake on the dining room table. Talk about hot entrées!