Vivid Video presents Where The Boys Aren't 15. It is the biggest and best Where The Boys Aren't ever!!! With superstars Taylor Hayes, Kira, Briana, and more, getting down and dirty and greased to thrill in this blue-collar, pink panty lezathon!!!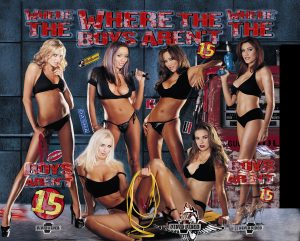 Featuring just about every contract girl in the current Vivid stable, this edition is as good as they get, with every babe a knockout and every scene a winner. — AAAA (AVN)
We open with Kira Kener and Dasha midway through a skin-fest in the back of a station wagon parked in a sexy garage. Both girls look spectacular as they tongue fuck each other, eat snatch, and finger-like their lives depended on it. They are soon joined by Raylene, who begins to masturbate immediately upon stumbling in on the sex in progress, which has now reached the dildo level (a dildo taped onto a wrench, no less!)


It doesn't take long for Raylene and Dee to start exchanging fluids in the garage office, their bulbous breasts heaving in gravity-defying unison in the process.

Soon after, a threeway with Briana Banks, Cheyenne Silver and Taylor Hayes erupts in the bathroom. The girls cover each other in grease and dirt as they suck tit and clit standing up before writhing on the floor like dirty little whores. It's a spirited scene and all three ladies look stunning and sleazy in what is surely a pre nom for Best All-Girl Sex Scene – Video.

Natural Nubian goddess (a new Vivid trend, I love it!) Chelsea Sinclair and buxom blonde Dayton spread their legs for some lovin' next to a vintage cherry red hot rod. We have another winner as both girls chomp and chew labia and mash their breasts into each other's coochies. Sexy stuff.

Thankfully, all the girls end up in a champagne-filled orgy for the finale, laughing, playing, and generally enjoying themselves. With the amount of perfect bods piled on top of each other, tongue lashings, fingering and sexed-up screaming going on, one would be a fool to not nominate this too for Best All-Girl Sex Scene – Video. And while we're at it, pre-nom the tape itself for Best All-Girl Feature.