The twins are making a home sex movie! They take us into their personal sex lives. Their cameras capture what it's like to live as a twin and have sex almost every day. They masturbate as they prepare for a party with Jessi Palmer and Ella Milano…and a 4-way all-girl romp in a house in Hollywood! They take full advantage of a shy young stud named Austin, until he busts a load! They set up a tripod and blow two guys at the same time! It's everything you wanted to know about your favorite twins… POV, hand-held and hot!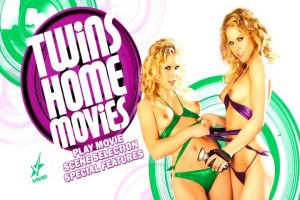 It's good to know twin sisters Taylor and Tati Russo have no qualms when it comes to having sex with the same people on camera. In this latest project, they certainly display no compunctions about mutually fornicating with girls, guys, and one very lucky "fan."  — Critical Rating AAA 1/2 (AVN)
Shot in gonzo style, this title helmed by former Vivid director B. Skow gives us a bit of everything. For the opener, the girls are woken up to perform a masturbation show, followed by a hot little four-way lesbian scene with Jessi Palmer and Ella Milano. At the scene's end, Jessi gushes with excitement over having just had sex with twins and a Penthouse Pet.
The Russos then head over to pay a visit to Austin—a fan who won a contest to bang them. Where were we when this contest was running? Tati and Taylor then drain a couple more nut sacks and it's off to their next sexual escapade. Twins Home Movies accomplishes what it sets out to do: drain our nuts until the next time we see the Russo Twins.