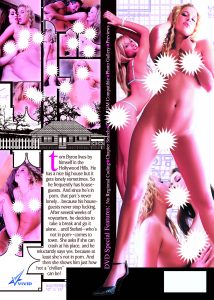 Tom Byron lives by himself in the Hollywood Hills. He has a nice big house but it gets lonely sometimes. So he frequently has house guests. And since he's in porn, that part's never lonely…because his houseguests never stop fucking. After several weeks of voyeurism, he decides to take a break and go it alone…until Stefani — who's not in porn– comes to town. She asks if she can crash at his place, and he reluctantly says yes, because at least she's not in porn. And then she shows him just how hot a "civilian" can be!
Stefani Morgan fans will love it. — Critical Rating: AAA (AVN)
There's nothing much to this, just sex scenes without any theme. Tom Byron, saying something inaudible to the camera, sets them in motion. The scenes are well performed and fairly well shot but basically run of the mill.
Byron introduces Stefani Morgan to Tommy Gunn and they fuck. Kimberley Kane, looking very fetching, plays with herself, which turns on Jay Huntington. So they fuck.
Stefani and Faith eye each other and get it on together. Kate Frost gyrates on stripper pole, making Jerry want to eat her ass. He also fucks it, the only anal in movie. Byron, mumbling to himself, returns to get it on with Faith.