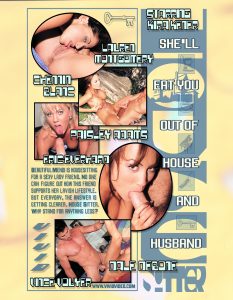 Beautiful Mendi is housesitting for a sexy lady friend. No one can figure out how this friend supports her lavish lifestyle. but every day, the answer is getting clearer. House Sitter. Why stand for anything less?
Descent couples video, perfect for telemarketers and others who spend way too much time on the phone. — Critical Rating: AAA 1/2 (AVN)
This is a fine vehicle for showcasing Kira Kener. She plays a house sitter for Lauren Montgomery and gets more than she bargained for as Montgomery, and by proxy Kener herself, becomes the aural recipient of many people's phone sex exploits. Montgomery's cell rings nearly nonstop and Kener visualizes "fantasy girls" like Chandler, Paisley Adams, and Chennin Blanc in action with each other and some guys. A touching, tender return to the real world is attempted by T.T. Boy, and the sex is hot, but the concept just misses. Nice try, though. Kener is a beauty, nonetheless, and that alone is more than a good enough reason for viewing this video. Everything and everyone else is just icing.