This is the story of a British gangster named Jenkins. Jenkins owns a seedy strip club that offers what men desire and much more. Jenkins also happens to be the distributor of a sexual aphrodisiac called "HONEYSUCKLE". 
A highly addictive drug that makes girls unbelievably horny! Dodgson and Andrea are federal agents assigned to infiltrate the club, and put an end to its illegal business. Dodgson goes in as a patron and Andrea as a stripper.

See the tale unravel as Andrea works the dance pole like a pro, and even takes the illicit drug in order to avoid being exposed. Will Andrea blow her cover… or blow the customers. Watch as Stefani Morgan unleashes her sexual inhibitions in 200 Proof. We promise it'll have you coming back for more.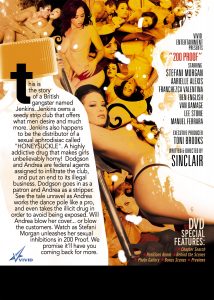 For viewers who want a bit of an FBI investigation story with the sex, they'll enjoy 200 Proof. — Critical Rating: AAA 1/2 (AVN)
This quickie feature has a fair amount of interest for fans of plot-themed porn. Van Damage plays an FBI agent who's investigating a strip club that fronts for the drug trade. He's all tied up, narrating the story in flashback. Club owner Ben English smuggles a drug called Honeysuckle. This "ultimate aphrodisiac" is used as a date rape potion that makes a girl uncontrollably, insatiably horny.


Stefani plays Andrea, an undercover agent posing as a stripper. She has sex with English and also with Aarielle Alexis. Franchezca Valentina, as a club girl, does anal with Lee Stone, ending with a juicy creampie. She also fucks Damage after she drugs him. Andrea is rescued by her boyfriend, Manuel Ferrara, for a closing sex scene.